The Harvest est un jeu de rôle/action inscrit dans un univers futuriste, quelques années après l'invasion de la Terre par d'implacables aliens. Ces aliens, connus depuis sous le nom de Moissonneurs, utilisent humains et animaux pour créer des cyborgs, de grossiers amalgames de chair et de technologie. Les Humains, ralliés au GDF (Global Defence Force), livrent une guerre sans merci aux Moissonneurs à bord d'unités d'infanterie mécanisée.
The Harvest est l'un des titres majeurs du catalogue du WP7. Plutôt joli, sans être époustouflant, le soft impressionne surtout par la qualité de sa finition en général : des menus magnifiques, des cinématiques de qualité et un monde quasi-ouvert, le niveau demeurant assez linéaire mais offrant des espaces très vastes et sans temps de chargement.
L'armée du GDF s'est déployée aux quatre coins du monde pour tenter de déjouer l'invasion des Moissonneurs et rendre la Terre à ses propriétaires légitimes. Vous appartenez à une escouade détachée dans les vestiges d'une cité antique, théâtre d'une mystérieuse activité ennemie. Ces ruines abritaient jadis la base militaire d'une organisation précurseur du GDF. C'est ici que débute le jeu.
Le joueur peut incarner plusieurs sortes de guerriers, allant du space marine balourd qui mitraille à distance et saute pour écraser ses ennemis à l'assassin, qui l'élimine sournoisement. On avance en pointant du doigt une direction, on tire en visant l'adversaire du doigt et on peut même effectuer quelques actions spéciales en cliquant sur les boutons appropriés sur le côté de l'écran ou en opérant des actions spéciales comme double taper sur l'écran pour faire un saut et éliminer ses adversaires.
Les boss sont également plutôt bien fichus, sans compter que certains passages nous permettent d'être épaulés de joueurs gérés par l'I.A.
Vidéo du Jeu: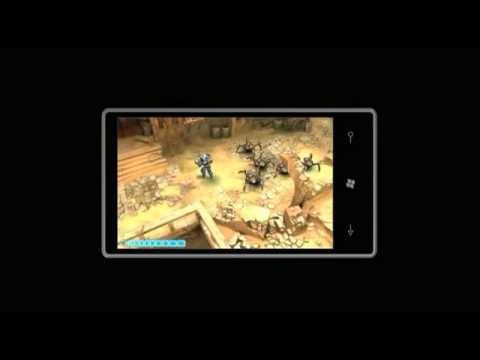 Nous devons également souligner que ce jeu peut être joué sur l'ordinateur, le smartphone, et la Xbox 360 via Xbox LIVE Arcade. En gros, commencez sur la xbox, continuez sur le pc et terminez sur le Windows Phone… Génial tout simplement !
[stextbox id="download"]Télécharger le jeu The Harvest sur le Store pour 6,49€[/stextbox]